Bill Murray And Mario Lemieux Featured As Cool Bosses!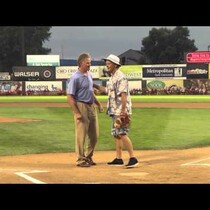 Posted August 30th, 2014 @ 2:45pm
Bill Murray owns several Minor League Baseball teams.. one is the St. Paul Saints, and this past week, Murray spent some time as a ticket-taker at the game. He's also had several really cool promotions at his Charleston River Dogs games - one was 'Silent Night,' where the crowd was asked to be as quiet as possible to set a record as the 'quietest baseball game.' The other was 'Nobody Night,' where fans were kept outside the ballpark until the fifth inning, when the game was 'official,' so it could be touted as the game with the lowest attendance. Lemieux? He's featured for letting Sid crash on his couch when he came to town!