Billy Joel On Almost NOT Recording "The Song That SAVED My Career"!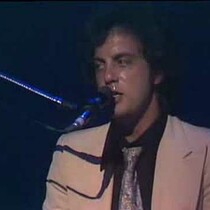 Posted April 5th, 2013 @ 10:06pm
He Owes It ALL To Phil Ramone...AND Linda Ronstadt & Phoebe Snow!



As featured recenlty in Roling Stone Magazine, Billy recalls how he thought
of the song as "glop", and how had to be "convinced" to by the late Phil Ramone--with some help from two famous female performers--put it on his album.
"One day we were in the studio and [Ramone] goes out and comes back in with Linda Ronstadt and Phoebe Snow," Billy writes. "He goes, 'I'm gonna play you a song.'…and he knew that they were gonna like the song, before they even heard it. It's a girls song. They heard the song, and Linda Ronstadt goes, 'Are you crazy? That's a great song!'…I was like, 'Really?'"
Joel adds, "And Linda Ronstadt was pretty cute. I said, 'Oh Linda Ronstadt likes it? Okay!'"
CLICK HERE For The ROLLING STONE article in it's entirety!